FRESH AND FROZEN PRODUCE
AQUADIS offers a large range of produce
We have added a range of
seafood produce
which includes cooked shellfish, fish fillets (whiting, pout, gurnard ….) and salted fresh seaweed to our usual produce: pink
trout
, trout fillets, fish kebabs, steaks, slices, sea trout and organically-farmed trout.
In order to supply our customers with produce that meet their requirements, our Quality Department carries out daily checks of the manufacturing process and compliance with the produce data sheets (size, trimming, taste, colour ….).
Thanks to our records management system and to the implementation of EAN 128 coding, we are able to guarantee full up- and downstream traceability.
We are constantly looking for new produce, new packaging or new product conservation techniques; as a result, we are driven by your wishes to study, or even develop, innovative produce.

A range of "Fresh Packed" produce in full expansion ….
Faced with an ever-increasing demand for packaging adapted to new consumer patterns and to a need for sized and high-quality produce, AQUADIS launched its range of modified atmosphere trays in the summer of 2004:
Gutted and de-boned pink trout,
Trout fillets,
Fish kebabs and steaks served with seaweed
Organically-farmed trout.
Our range of microwaveable and PLA trays is complemented by some product mix trays.
This new "gas-packaged peel-back tray" range has many advantages: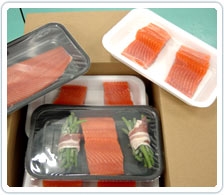 Packaging adapted to consumers' needs
Carefully prepared presentation of the product
Product well presented in the tray to encourage impulse buys
No smell
Bacteriological risk control
Use-by date at least 6 days after purchase
Individual traceability on each tray
Complete transparency as regards the origin
The possibility of advertising on the tray's peel-back film, and demonstrating the product
The range of trout trays is in full expansion and is being widened more and more, thanks to some specialities like organically-farmed trout or sea trout fillet (for more information: see "Aquadis sea trout life cycle").



For more information:


At the same time, a Fresh Seafood range which includes pout, whiting, gurnard, Alaska Pollock, cooked edible crab and lobster was launched in 2005, and is growing every day. Our range of microwaveable and PLA trays is complemented by some product mix trays.

AQUADIS is able to offer diversified ranges and sustainable Quality development, thanks to the know-how of the wholesale fishmongers, the outstanding freshness of their fish landings and the complementary nature of our businesses.